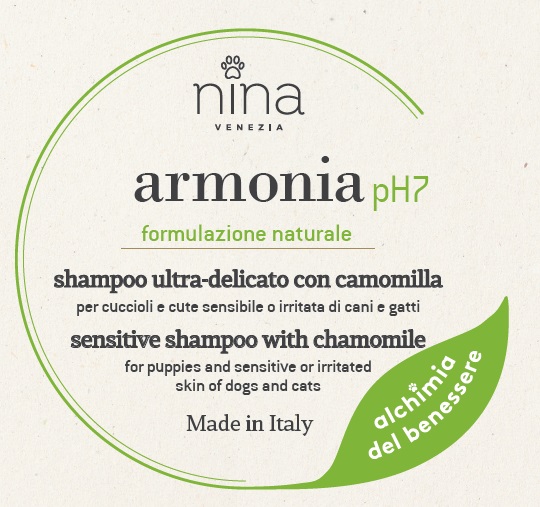 Nina Venezia, the Alchemy of Wellness
Nina Venezia Armonia - Sensitive Chamomile Shampoo - pH7 - Dogs and Cats - 250ml

High quality product made in Italy and eco friendly with totally recyclable packaging material.
Proprietà: shampoo con formulazione naturale indicato per animali dalla cute sensibile o irritata. Contiene Aloe Vera, estratti di Lichene e Lime, Pantenolo ed estratto di Camomilla. Studiato per rispettare il pH del cane e del gatto.
Modalità di utilizzo: bagnare il pelo con acqua tiepida, applicare lo shampoo in modo uniforme, massaggiare e risciacquare abbondantemente.
EN - Properties: shampoo with natural formulation suitable for animals with sensitive or irritated skin. Contains Aloe Vera, Lichen and Lime extracts, Panthenol and Chamomile extract. Designed to respect the pH of dogs and cats.
How to use: wet with warm water and apply shampoo avoiding eyes and ears. Lather gently. Leave on for a couple of minutes. Rinse thoroughly. Dry well and comb.
FR - Propriété: shampooing à la formulation naturelle adapté aux animaux à peau sensible ou irritée. Contient de l'aloe vera, des extraits de lichen et de citron vert, du panthénol et de l'extrait de camomille. Conçu pour respecter le pH des chiens et des chats.
Mode d'emploi: appliquer uniformément sur poils mouillés, émulsionner, laisser poser 2 à 5 minutes, rincer abondamment.
D – Eigenschaften: shampoo mit natürlicher formulierung, geeignet für tiere mit empfindlicher oder gereizter haut. enthält aloe vera, flechten- und limettenextrakte, panthenol und kamillenextrakt. Entwickelt, um den ph-wert von hunden und katzen zu respektieren.
Anwendung: mit warmem Wasser bepinseln, nass machen und unter Vermeidung von Augen und Ohren Shampoo auftragen. Vorsichtig einreiben. Einige Minuten einwirken lassen. Gründlich ausspülen. Gut trocknen und kämmen.
ES - Propiedades: champú con formulación natural indicado para mascotas con piel sensible o irritada. Contiene extractos de Aloe Vera, Liquen y Lima, Pantenol y extracto de Manzanilla. Diseñado para respetar el pH de perros y gatos.
Instrucciones de uso: Cepille, humedezca con agua tibia y aplique el champú evitando ojos y oídos. Frote suavemente. Dejar actuar durante un par de minutos. Enjuague bien. Secar bien y peinar.
INGREDIENTI/INGREDIENTS: Aqua, Disodium laureth sulfosuccinate, Aloe barbadensis leaf juice, Cocamidopropyl betaine, Sodium chloride, Myristyl lactate, Sodium lauroyl sarcosinate, Sodium chloride, Phenoxyethanol, Panthenol, Parfum [Fragrance], Glucose, Sorbitol, Sodium glutamate, Urea, Sodium Pca, Hydrolyzed wheat protein, Glycine, Polyquaternium-7, Chamomilla recutita flower extract, Cucumis sativus [Cucumber] fruit extract, Cetraria islandica extract, Citrus aurantifolia [Lime] fruit extract, Ethylhexylglycerin, Sodium benzoate, Imidazolidynyl urea, Potassium
barcode